Paritor's Infrastructure Engineer, David Hurst, has refined his expertise by qualifying as a Microsoft Certified Azure Administrator, thanks to Paritor's investment in his training. Paritor now holds three Microsoft partnership competencies, including the cloud platform, ISV, and small and midmarket cloud solutions.
Investing in people and training is a core value of the Paritor ethos. To remain true to this, a recent recruitment initiative has resulted in three new members of staff joining the team.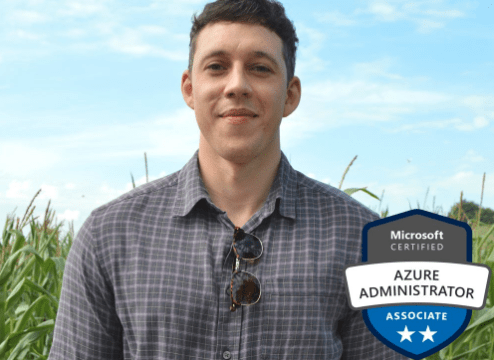 The Microsoft Exam
Obtaining the Microsoft Certified Azure Administrator status consists of a pass or fail multiple-choice three-hour exam and is only eligible for candidates who meet the skill requirements and experience necessary. A substantial degree of proficiency and expertise is essential before learning for the exam can begin. The exam is completed on the Azure platform and covers five topics with two main topics. These topics are:
Virtual Networking: areas such as VNET peering, securing Azure infrastructure, and load balancing.
Managing Azure Compute: includes Azure disk encryption, Kubernetes, and the correct use of Virtual Machines
The exam also tests knowledge on implementing and managing storage, managing azure identities and governance, and backing up Azure resources.
A candidate for the exam needs at least six months of hands-on experience. It is also required that they have a strong understanding of Azure services, workloads, security, and governance. Those who pass the exam must articulate their understanding and provision with each of Microsoft's services.
Dave's Experience
Usually, the exam is taken at a test centre, however, due to the situation surrounding Covid-19, testing is being done from home. Despite the added pressures of sitting the exam out of the ordinary conditions, David successfully passed. He had the following to say on his experience…
"The exam was certainly challenging, but I'd come to expect that, as Microsoft certifications are known to be no easy task. It was also my first professional certification outside of an 'academic' environment, so I wasn't quite sure what to expect. Passing the exam involved a lot of self-study, both on the weekends and whenever I had some free time at work. It was important to make use of the official Microsoft AZ-104 documentation and labs, alongside an Udemy course (I used Scott Duffy's which was brilliant). The exam benefits both the company and myself, so Paritor were happy for me to spend time working on it."
Paritor are enthusiastic about ensuring their team are knowledgeable and certified. By using technology in the most efficient way possible, their software can effectively help provide the best service for customers. Congratulations David on your success in securing your Azure Administrator Associate certification!
For further information on the nature of the Microsoft Certified Azure Administrator examination please use the following links: