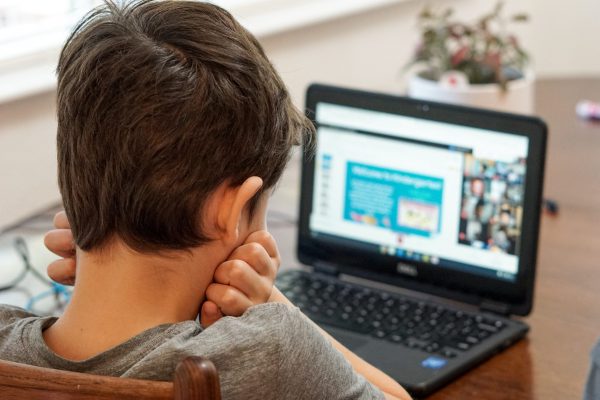 Pandemic related school closures have caused a surge in online tuition businesses. In fact, The Guardian reports that online classroom platforms have seen a large increase in online classes, and the private tuition industry was worth £2 billion as of March 2020. Now that some aspects of life have returned to normal, we expect to see a 'click and mortar' model for most tuition providers, where some classes go back to the classroom and some remain online.
Teaching online will require you to have certain equipment to be as effective a tutor as possible; it can be overwhelming to consider all the different options for each, so we've rounded up some examples. Here is some of the equipment you should consider investing in:
Computers
Technical requirements for online teaching aren't very high. Any computer that has at least 8GB RAM, an i5 processor, and good Wi-Fi reception will be fine. If you're using a PC, you can customise it to fit these requirements, and you can easily hook it up to any monitor for more screen space. You can easily adjust the height as well, to keep your back from aching.

Dell's 27-inch FreeSync monitor is big enough and high-res enough for most people. It uses ComfortView technology to limit blue light and reflections, which can be of great help if you need to teach for several hours a day. If you opt for a laptop, the Dell XPS 15 has a 15.6-inch screen and 6-8 hours of battery life that makes it ideal for a busy tutor. If you're pre-recording any videos, a high-resolution screen is important since tutees may view those videos on high-res screens.

Microphones
A good microphone plays a huge role in an online tuition business. You want your students to clearly hear you, and this is especially important if you're teaching music or language where high sound quality is a must.
This guide for the best microphones for streaming by Shout4Music recommends the Audio-Technica AT2020 as a good choice, particularly due to its price point and performance. It has a great frequency response that adds depth and smooth highs to your voice, boosting its clarity. The cardioid polar pattern makes it much easier to reduce the background noise. It's user-friendly as you only need a USB connection to set this up.
Noise-Cancelling Headphones
Even a quiet workplace can sometimes come with distractions, like a truck passing by or your neighbour's dog barking. Noise-canceling headphones ensure that you'll be able to properly hear your students.

The Bowers & Wilkins PX7 has a great noise reduction feature. For music tuition sessions, this pair provides a balanced listening experience. They're also lightweight and comfortable, making it perfect if you have continuous tuition sessions.

Webcam
Standard laptop webcams aren't usually the highest quality. A standalone camera can provide you with more and better features (such as autofocus and light correction) than built-in webcams.
The Logic C920S HD Pro is an impressive option that gives you 1080p at 30FPS, resulting in crisp and clear videos. It has autofocus and auto white balance features as well, and it does a good job of adjusting these quickly. If you also need lighting, the Razer Kiyo has built-in lighting that you can also adjust accordingly. A good quality webcam ensures your students can see you clearly in good lighting so they don't miss anything you might have to demonstrate, or any facial queues whilst you're interacting with them.
Check out our other articles in our blog to learn more about how you can improve your online tuition business!
Written exclusively for Paritor.com
by Angela Calvin