What Makes Xperios Different
If you're a current Ensemble software user, you're familiar with some of the core functions that make Xperios so resourceful. However, as we work towards the gradual release of Xperios you might be wondering what distinguishes our new software from our older version.
What's all the fuss about? At Paritor we believe in moving with the times. Technology is changing the way that businesses operate. To ensure that our customers can keep up to speed we're adopting some major new features and functionality to Xperios using cutting-edge cloud-based technology.
We're tech architects, creatives, and innovators. We're Microsoft Silver Partners and part of the Azure Fast Track team, with the goal of keeping your data available and safe. We wouldn't want anything like a drop in internet connection, or temperamental VPNs getting in the way of you doing your finest work. That's why Xperios is crafted to carry on by jumping over these hurdles using Microsoft's B2C login system.
Our new software is built for the community. It's designed to offer support for everyone involved with performing arts education. It's ideal for individuals, small tuition services, and large services. At our core, we support music services, and we always will. Now, Xperios is also tailored to support dance, drama, and everything else.
One blog isn't enough to cover everything we've added. So this blog is going to go a little more in-depth about some of the key elements covered in our Xperios Can infographic.
The Paritor Portal: School View
Xperios comes with an interconnected portal to help create stronger connections between everyone involved with a performing arts service.
The easiest way to think about it is that the Xperios software is a rich backstage operations station, and the Xperios portal is a tailored, secure, centre-stage web domain. Both are closely linked, and Xperios makes managing the tools, functions, and forms included in the portal straightforward.
The portal has three different views, depending on who's logged in. This includes a School View, Parent and Pupil View, and a Teacher View, each is packed with tools. For this blog, we'll be thinking about a few features from the School View and the Parent and Pupil View.
The School View includes a clean easy-to-read timetable detailing the schedules of teachers and schools. By double-clicking on a schedule item, the user can open up further information and functionality. Crucially, School View also offers up-to-date DBS information so you know when a DBS check is due for staff.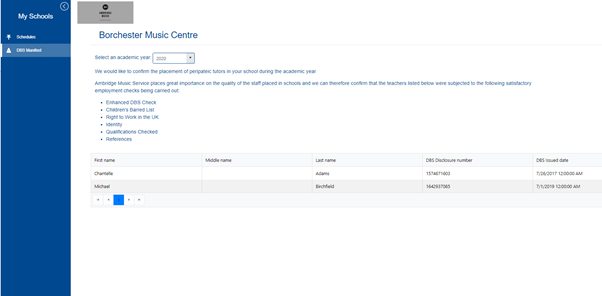 The Paritor Portal: Parent and Pupil View
The Parent and Pupil View allows parents to feel more involved in their child's learning and more in control of what they're getting out of the service you provide. Some of the best things about the portal for parent and pupil users include:
It's accessible on any device with an internet connection.
It's quick and easy to log on, and can be accessed day and night. This means busy parents can log on in the evening or first thing in the morning and still explore the benefits of the service they're receiving.
My Dashboard offers an overview of the tuition, events, exams, and other services that have been applied for by the parent or pupil. From here applications can be cancelled, and their status monitored.
My Dashboard lets the user oversee any outstanding fees and make payments through the portal. The dashboard also features an Unread Message section, where the user can find the latest messages and communications regarding their service.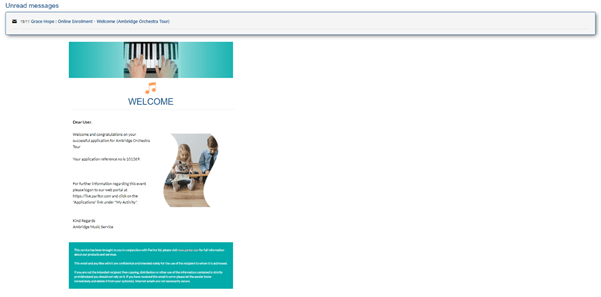 The Enrol icon allows users to view and complete applications for available tuition, exams, auditions, events, and more.
My Account includes a history log of activity, finance, and messaging for the account being viewed. Here, users can also find their learning schedules.

Automated and effortless payment systems
The automated financial settings for Xperios save hours of administration work and book-keeping. Although the Ensemble software includes several sophisticated financial and administration features, Xperios takes this to the next level.
With Xperios, re-occurring payments can be set up. Customers can also choose their method of payment and choose their own instalment options. From here, it's really all down to the system to do the rest. Xperios can automatically:
Take payments at set times.
Refund and write-off invoices.
Notify debtors when card payments are unsuccessful.
Re-attempt to take failed payments.
After several failed attempts, Xperios will notify the debtor that their tuition will cease unless payment details are updated.
All automated features can be turned on and off within the system to suit your service.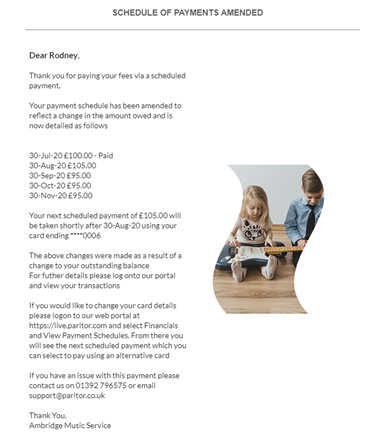 Active and Waiting Lists for Applicants
(that can be adjusted quickly and easily)
We all know there's going to be an element of human error, Xperios allows application changes to take place after the applicant has submitted their details. Software users can transfer waiting list delegates if someone applies for the wrong tuition or service.
Once someone applies to tuition through the online booking portal, Xperios users can choose what happens next with their application, and monitor the application process from start to finish.
Applicants can be withdrawn, transferred, or invited from the waiting list at the click of a button. Relevant communications are automatically passed on to a pupil, parent, or teacher (if the pupil's application needs evaluation).
Clean and user-friendly layouts also mean that each delegate's balance, application date, and status are visible for hassle-free monitoring. All in all, Xperios makes it even easier to provide smooth and exceptional customer service.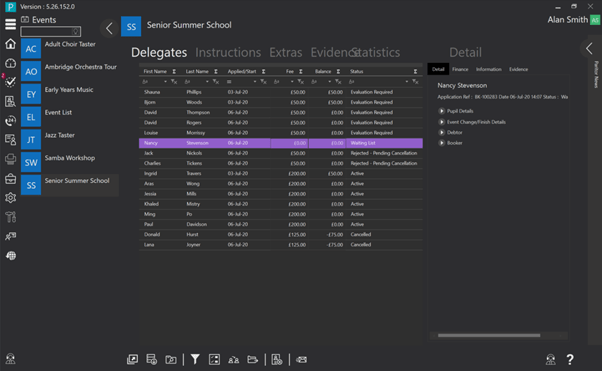 If you're keen to explore what else Xperios has to offer take a look at our Features page. It's also accessible via the tabs in the website menu above.
Our team are happy to talk should your service be keen to migrate to Xperios. Just get in touch.