COVID-19 FAQ
COVID-19 FAQ
Frequently Asked Questions in response to
Covid-19
Please bookmark this page as it will be updated as the situation develops. 
Recently Added Questions
Q. How do I setup Ensemble to allow me to work from home? 
A. We have created a detailed blog post specifically for setting up remote working. You can read it here.
Q. How can I email all the current users in our database?
A. As this query depends on the way you manage your database, we have compiled the answer into a blog post. You can read it here.
All Questions
Q. How can I delete all my summer term lessons?
A. We advise that you do not delete all your summer term lessons. We do not know for sure (although it seems likely) that lessons will not take place at all in summer. Invoices will only be generated if you run your billing, we suggest not running this for now so your parents or schools won't receive unwanted bills.  
Q. If I don't run my summer invoices, will they be generated when I raise my autumn bills?
A. No, the software only creates invoices for the period that you select. This allows you to create your autumn invoices without producing summers.  
Q. Can I raise my instrument hire invoices without producing my tuition and group invoices?
A. Yes, you can. When it comes to raising your invoices, you can select just to include "resource hire charges", as shown in the screenshot below: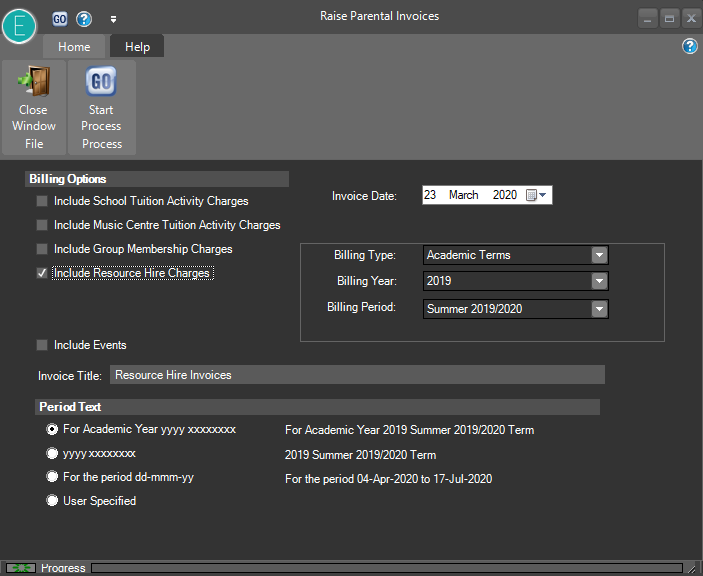 Q. If we only deliver half of the lessons can we reduce the invoices to reflect this?
A. Yes, there are a number of ways to achieve this. It will depend on several factors, such as how you have configured your charges. We recommend once you know if your lessons will start to back up, that you raise a ticket with the details. A member of the team will be in contact to discuss the best steps to bill your customers accurately.  
Q. Can I use the system to charge for online lessons?
A. Yes. This is very easy to set up. Exactly how to process this will depend on whether you are charging a different rate and the number of pupils involved. If you raise a support ticket, we will be able to advise on the most efficient process.  
Q. How to I credit all my summer invoices?
A. Although there isn't a function in the software for this purpose, you can raise a ticket and one of the team will be in touch to discuss doing this on your behalf. We wouldn't want to see you do this manually (it would likely take you hours) and we are very happy to help given the circumstances.  
Q. We would like to book some consultancy or training, but our office is closed
A. We are now offering online consultancy and training, which can be delivered in hour and a half slots using screen sharing. Give us a call on 01392 796575 if you would like to this discuss further.